Status of Geeky Goon Squad
Geeky Goon Squad is NOT in a good standing!
• This organisation is currently driven out of savings. (which decreases each month)
• Improvements are not possible.
• Damaged equipment can not be replaced.
• Some events might not be covered due to high costs.
• The amount of supporters at this moment is too low.
this is the current status!
Upcoming events
Azension

Växjö
Jul 09. - 10. 2016
PPT Summer

Munich
Jul 22. - 24. 2016
PLAGA 2016

Verl
Aug 12. - 14. 2016
Heir 3

Nottingham
Aug 19. - 22. 2016
Battalion

Berlin
Aug 26. - 28. 2016
Recent events
Smash the Mill Season 1 Finale

Fredrikstad
Jun 10. - 11. 2016
DG Summer Clash

Dortmund
Jun 04. - 05. 2016
AGON-Serie - Flawless Strike

Neuss
May 27. - 29. 2016
Destination: Fight 2

Skövde
Apr 15. - 17. 2016
Avalon U-III

Zoetermeer
Apr 02. 2016
Geeky Goon Squad (abv. GGs) is the leading broadcasting and media production company for European Smash, founded in 2015.
Mission Statement
Our main goal is to improve and develop the current quality of European streams. Insipired by the high standards of streaming companies such as VGBootcamp and Showdown Smash our goal is to bring European Super Smash Bros. streams to the next level. Even though we also stream traditional Fighting Games, our main focus is targeted towards Super Smash Bros.
Our Qualities
As a company based in Germany one of our biggest qualities is our reliability and our technical know-how. Our main streamer Liva has been part of Salty Playground and VGBC and has proven himself as one of the premier streamers within the entire fighting game community.

We already streamed several european majors including Dreamhacks SMASH Championship at Dreamhack London & Dreamhack Winter, BEAST 6 & HELIX
About us
Our team consists of German Smash Players from different regions coming from different gaming backgrounds. We all share the desire to support the growth of this amazing Community and consider this project as a huge opportunity for the future of European Smash.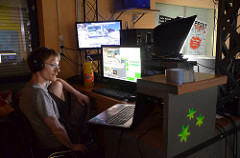 Experience
We already have experience in streaming tournaments of completly different games, such as:
Super Smash Bros. Melee
Project M
Super Smash Bros. Brawl
Super Smash Bros. 4 Wii U & 3DS
Mario Party
Ultra Street Fighter 4
Persona 4 Arena
King of Fighters
Tekken
Starcraft II
Hearthstone
Pokemon